Video shows Apple iPhone 5C shells in five delicious colors
34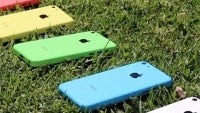 A video posted Friday on YouTube shows the five different color shells that we should see on the budget priced
Apple iPhone 5C
. In fact, on the video, we learn that the "5C" moniker for the phone comes from the number of different color options that will be available for the device including a pinkish looking red, blue, white, yellow and green. What about the black model we showed you recently? New reports say that
the black iPhone 5C probably is fake
and at this point, we are going along with that 100%. The five legit colors (except for white) are pastel and we must admit that they seem to blend in nicely with the iOS 7 color scheme. So the "C" in iPhone 5C doesn't stand for Cheap or China. It stands for "Colors".
We have seen a ton of those colorful iPhone 5C shells over the last few months and the monotony should be coming to an end on September 10th when Apple officially introduces the Apple iPhone 5C and the
Apple iPhone 5S
. The latter has its share of color options and we could see the new full-priced iPhone dressed in black,
and gold
(or champagne, if you prefer). A recent picture allegedly showing the back of the phone in silver
was deemed to be a fake
since it did not include the pill shaped dual LED flash that is expected on that handset. At this point, there might be a third color option for the full-priced iPhone 5S, but there is no guarantee that it will be white.
What a year it has been for players of the iPhone speculation guessing game. In January, we even had a rumor about a 4.8 inch model that was probably called the Apple iPhone + that somehow became the
iPhone 5 Math
because of a wacky translation. We've had the Skittles colored iPhone 5C shells, and the classy champagne look of the Apple iPhone 5S. The fun part is when Apple does make its introductions and we get to see how close the rumors were from the facts.
source:
YouTubes
via
SlashGear