Video gives you 30 minutes of reasons why you should buy a case for your smartphone
34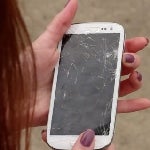 intense
the repair process is. Just because your smartphone has Gorilla Glass doesn't mean that it is unbreakable. For example, you never know when a hammer wielding lunatic will smash the screen on your brand new
Samsung Galaxy S III
. Even using a case won't prevent that type of damage. But a well made protective case should be able to prevent or limit the damage to your screen caused by an accidental drop of your smartphone.
How important is it to protect your screen? Check out the second video below which shows all 30 minutes of the repair of the Samsung Galaxy S III with its 4.8 inch screen
smashed
by the events that took place in the first video. You could spend thirty minutes watching something that might motivate you to protect your expensive and highly regarded investment, or you can waste a half hour watching the reality show
Hardcore Pawn
. The choice is yours.
source: YouTube (
1
), (
2
) via
AndroidCentral