Video: Two-year old handles BlackBerry 10 like a pro
26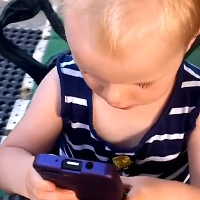 How easy is BlackBerry 10 to use? It's so easy that even a two-year old can use it. A video that was produced using the Story Maker app on the
BlackBerry Z30
, shows a toddler named Cherry navigating her way through the OS as though she had practiced using the gesture based software while in the womb.
Cherry shows off her prowess in unlocking the screen with a simple swipe up. And while
she wasn't born when Palm introduced webOS at CES 2009
, she minimizes an app and then performs the old webOS trick of closing it by swiping it off the screen, like the power user she is. Hmmm. Wonder how she would do with a BlackBerry Passport in front of her.
The two-year old was also able to visit YouTube where she called up a Yo Gabba Gabba video (Google it). If a two-year old can use BlackBerry 10 like a pro, no reason why the OS can't be as easy to use and intuitive for everyone.
source:
ShawnBurk