Viber VoIP app surges to reach 140 million users, introduces fun Holiday themed update
7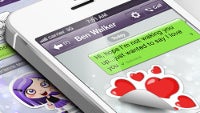 Viber is probably one of the most popular Skype alternatives on smartphone. Unlike Skype it integrates tightly with the core phone functionality of the phone and quietly runs in the background allowing you to make or take free calls at any time.
And free is a huge word for calling, especially international. Users are definitely liking Viber as it now has expanded its user base to 140 million, and has introduced a brand new version for the Holidays.
In it, Viber brings a ton of fun smilies to better express your feeling in more than just words. Here is a list of the new features:
Playful emoticons
Fun stickers
A new "Send Location" feature that allows you to share a map of any location you choose
An enhanced messaging experience with an updated user interface
Just like previously the app allows its users to exchange text messages and call each other for free, no matter where they are. You are still charged for the Internet data the app uses, of course. Everyday users of the application are now 400,000 people.
source:
Viber