Verizon's inventory system shows BlackBerry Storm 2 9550 and Curve 8530
This article contains unofficial information.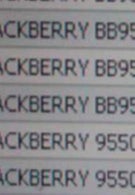 expected release date
of September 29th for business accounts and October 14th for the rest of us. Everything that we have seen from videos tells us to expect a better SurePress typing system than seen on the current Storm, plus Wi-Fi and a newer OS build. The Curve 8530 should be equipped with an optical trackball and Wi-Fi in a slimmer, sleeker case. Our crystal ball shows Verizon making a November launch of the 8530.
RIM BlackBerry Storm 2 9550 Preliminary Specifications
RIM BlackBerry Curve 2 8530 Preliminary Specifications
source:
Crackberry