Verizon's 5G marketing strikes again with pseudo NFL stadiums 'coverage'
1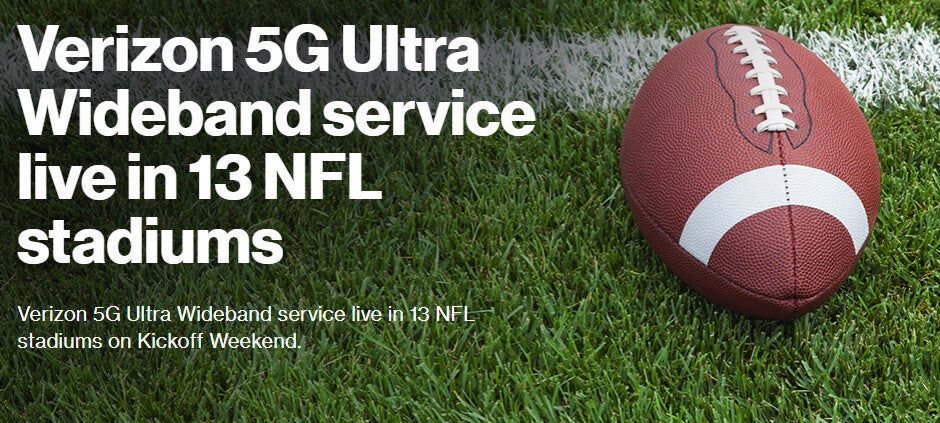 Back when Samsung was releasing the
Note 10+ 5G
for Verizon, someone ran a speed test with it, and got the whopping 1.84 Gbps downloads. That's near the maximum that the modem is capable of!
Don't pop the champagne just yet, as millimeter wave networks like the current 5G ones from Verizon, AT&T, and T-Mobile, offer the fastest speeds and thus marketing bombast at their initial rollout, yet on the other hand mmWave spectrum has very low penetration rates.
So low, in fact, that the signal can get easily dispersed by the phone's glass body, and it has trouble getting through your hands holding the phone, let alone trees, buildings, and even windows. T-Mobile was quick to point the difference between its 600 MHz Extended Range LTE spectrum and Verizon's initial mmWave 5G rollout in its typical
elegant
fashion.

Knowing full well that it won't have much to show in the sub-6GHz field until next year, and that if the T-Mobile
merger
with Sprint goes through, it will score a trifecta of 5G bands for the resulting carrier, Verizon is trying to leverage and market what it has now to the fullest.
That would explain the quick adoption of all 5G phones in the US under the sun, their generous subsidies, and the new 5G data plans that give the next-gen connectivity away for a limited time. Oh, lest we forget the heavy marketing push, Verizon yesterday
bragged
that it is bringing 5G to major stadiums around the US just in time for the NFL kickoff this Sunday:
Bank of America Stadium (Carolina Panthers)
Empower Field at Mile High (Denver Broncos)
CenturyLink Field (Seattle Seahawks)
Ford Field (Detroit Lions)
Gillette Stadium (New England Patriots)
Hard Rock Stadium (Miami Dolphins)
Lucas Oil Stadium (Indianapolis Colts)
MetLife Stadium (New York Giants and New York Jets)
M&T Bank Stadium (Baltimore Ravens)
NRG Stadium (Houston Texans)
Soldier Field (Chicago Bears)
U.S. Bank Stadium (Minnesota Vikings)
Back in March, the NFL entered a two-year partnership agreement with Verizon to jointly develop new products and services that use 5G and other future technologies to enhance the fan experience.
Verizon, "The Official 5G Innovation Partner of the NFL"
The thing is, however, that just a day before the kickoff on said stadiums, Verizon's 5G-laden spots there are few and far between still. That's the nature of the high-band mmWave 5G beast, of course - one needs base stations spreading the 5G love every 1000 feet or so, but even Verizon advises that you may move in or out of 5G coverage within the same stadium!
Verizon 5G Ultra Wideband service will be available in areas of the above stadiums. Service will be concentrated in parts of the seating areas but could be available in other locations in and around the stadium as well. When customers with 5G enabled smartphones move outside Verizon's 5G Ultra Wideband coverage area, the 5G-enabled devices will transition the signal to Verizon's 4G network. In some cities the stadium will be the only place with Verizon 5G Ultra Wideband service, offering fans a unique 5G experience they can't get anywhere else in their local area.
There you have it - if you already splurged for some of the $1000+ 5G phones on Verizon like the
Note 10+ 5G
, Galaxy S10+ 5G, or even the
LG V50 ThinQ
, and are excited to test out those Gigabit speeds, better hope you are not in the nose-bleeders.
We don't know what exactly "
parts of the seating areas
" entails, but if that's the VIP lounges and/or a designated 5G "demo" area, you may be out of luck. And if your stadium happens to indeed be "the only place with Verizon 5G Ultra Wideband service" in the city, getting a ticket outside the area where UWB will magically appear in your phone's status bar, will only add insult to injury. "NFL" and "5G" sound great on promotional materials, though.