Verizon will give its customers time to plan before eliminating grandfathered unlimited data plans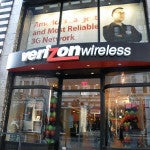 Verizon shook up its large customer base yesterday by saying that the carrier is
absolutely, positively ending the days of unlimited data
. Those grandfathered unlimited users who upgrade after shared, tiered plans are launched this summer will have to start keeping a tab on how much data they are using. That's right,
the days of all the data you can eat will be gone
.
will be forced to turn over their unlimited data plan fan club card
. But to settle down some of its subscribers, Verizon issued a statement on Thursday to let them know that they will have time to make a decision before Verizon pulls their unlimited plug.
The nation's largest carrier says that it will pass along whatever policy changes it is considering "
well in advance
" of the introduction of the new data plans it will offer. This will give Verizon customers
plenty of time to decide what steps to take
. The statement should help Verizon customers relax a little. After all, what is more scary than fear of the unknown?
As we have stated publicly,
Verizon Wireless
has been re-evaluating its data pricing structure for some time, Customers have told us that they want to share data, similar to how they share minutes today. We are working on plans to provide customers with that option later this year. We will share specific details of the plans and any related policy changes well in advance of their introduction, so customers will have time to evaluate their choices and make the best decisions for their wireless service. It is our goal and commitment to continue to provide customers with the same high value service they have come to expect from
Verizon Wireless
.
source: Verizon via
Phandroid