Verizon to tap into home control with Sigma Z-Wave in June
8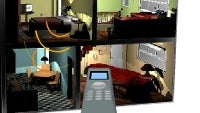 Home automation and control is a field we'll most probably be hearing much more about in the near future, but even now it got a major boost as
Verizon plans to introduce home control solutions
with Sigma's Z-Wave technology. Sigma produces Z-Wave modules allowing you to remotely control or automate appliances in your home. The announcement comes on the background of a new deal signed by Sigma and Mitsumi, with the latter becoming the newest producer for Z-Wave home control modules. What does it have to do with phones? For once, you could use your handset to control that home control ecosystem, turning your phone into a truly universal remote control.
A top Verizon executive mentioned that the carrier is looking to start offering Z-Wave powered service next month: "Sigma was a partner that we quickly identified, their Z-wave technology was going to serve us well, as we looked at how do we bring these IP peripherals into the home," director of consumer product marketing at Verizon Ann Shaub noted. The technology might not be mainstream, but that could well change as its getting more and more publicity.
A couple of weeks ago, Google unveiled its
Android@Home framework
, allowing remote control of appliances through an Android device, but compatible devices are to be released only by the end of the year. In contrast, Sigma already has some in its arsenal. Finally, it's the large-scale introduction of the service by Verizon that could truly make home automation take off. Big Red however doesn't plan on stopping with just home control, but rather expand its services to security, health and wellness. Check out the Apple commercial below to get a better idea of how it all comes together.
source:
PCMagazine