Verizon to offer special price with Nokia Lumia 2520 tablet, only $399 with 2-year contract
2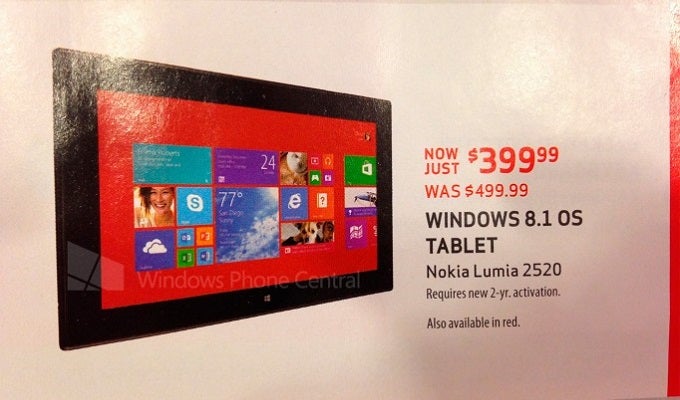 Nokia's new tablet is just around the corner, and in the United States at least, AT&T and Verizon will be in a heated contest to attract buyers to the impressive new device. The announced price for the
Nokia Lumia 2520
was $499, but it looks like Verizon is pulling out a big gun early and offering to take $100 off the suggested retail if you sign a 2 year service agreement.
If you missed
our hands-on with the Lumia 2520
in Abu Dhabi, know this, it is a truly impressive Window RT tablet. The "Nokia touch" to the whole form factor is quite impressive, especially the display.
The gang at WPCentral were handed a hot tip about Verizon's pricing strategy for the Lumia 2520 and we hope that the marketing people have some reprints ready, as the tablet is not running Windows 8.1, but Windows 8.1 RT. That is a significant difference indeed, unless Verizon is on track to get some super-secret, full-featured Windows 8.1 device from Nokia that no one, anywhere, at anytime, knows about.
The Lumia 2520 is already an impressive offering at $499. Verizon's $399 plans are sure to attract a lot of buyers. Windows RT is a great platform for those that need to handle the important things – productivity (like Office, SkyDrive), social (Live Tiles, Skype and a full browser) and portability that works outdoors (Nokia's super-awesome ClearBlack displays with outdoor visibility).
Does the pricing strategy from Verizon get you excited for the Lumia 2520? AT&T has yet to announce any special deals for the tablet, but it will surely offer the option to pick up the device as a part of the carrier's Next offering, which means that the Lumia 2520 could be in your hands for paying the tax only up front and then about $25 per month.
source:
WPCentral