Verizon to link the Cisco Cius tablet with LTE
1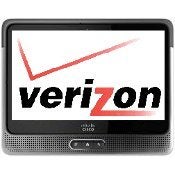 A couple weeks ago, we finally got the
full details on the upcoming Cisco Cius
enterprise tablet. The tablet will run on a modified version of Android 2.2 and has integration with many of Cisco's current lineup of enterprise services, so this tablet can really take care of business. Back in May, AT&T announced that it would be offering the
Cius tablet with "4G" in the fall
. Unfortunately, by 4G AT&T actually meant HSPA+, and Verizon has just one-upped AT&T on both accounts.
Verizon has announced that it will be offering the Cius starting this summer and will be bundling the tablet with (still not technically 4G, but closer than HSPA+) LTE. Although, there won't be an LTE radio built-in to the Cius. The tablet will simply be sold in a bundle with an LTE hotspot. This would seem to indicate that Verizon will be offering just the WiFi-only version of the Cius, while AT&T will be offering both the WiFi-only and "4G" (but really 3G) variants of the tablet.
The hardware of the Cius may not be enough to wow most consumers, but in the fairly limited world of enterprise tablets, the Cius does look like it can compete very well. Especially given the dissapointment of the BlackBerry PlayBook.