The Cisco Cius business tablet is meant for some serious business
3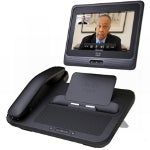 Tablets have had a strange life-cycle so far. At first (when they still ran Windows XP), they were mostly niche enterprise devices. Then the iPad came along and pushed tablets into the consumer space, but never quite fit right in the old enterprise niches that tablets had existed in before. RIM tried to address that with their BlackBerry PlayBook, but that didn't work out so well, mostly due to the endlessly silly idea to require the BlackBerry Bridge. Now, enterprise finally has a real option in the Cisco Cius.
Cisco TelePresence for video conferencing
Cisco WebEx for online collaboration and meetings
Cisco Quad for more social collaboration
Cisco Unified Presence for instant messaging and e-mail
Cisco Unified Communications for voice/telephony
That is a pretty impressive list of services. On top of that, Cisco is offering AppHQ, which is a specific app store for each business, controlled by that business' IT department. Also, Cisco has released an SDK to allow businesses to use the Cisco Communications APIs in their apps.
The Cisco Cius will be $750. It is a 7" tablet running Android 2.2. It has a front-facing camera capable of 720p video for video conferencing, a 5 MP rear camera, a 1.6 GHz Intel Atom CPU, 1 GB of RAM, a microSD card slot, micro USB port, HDMI out, and the ability to be docked with either a keyboard, media center, or phone system. It will be offered in a WiFi only version and a 3G/4G version.