Verizon to get the Samsung Galaxy S III in Black & Brown
31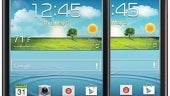 When the Samsung Galaxy S III was introduced earlier this summer, it came in two basic colors: Marble White and Pebble Blue.
Since then,
Samsung announced
a few more colors would be joining the spectrum, including Amber Brown, Garnet Red, Sapphire Black, and Titanium Gray. We saw the garnet red color
going to AT&T
as an exclusive.
It now appears that Verizon will be receiving the
sapphire black and amber brown colors
"soon", according to their web site. All there is at the present time is an
email sign-up form
to be notified when the two new colors will be made available.
Rumor has it that both the sapphire black and amber brown colors will comes in the same 16GB and 32GB sizes that the current marble white and pebble blue models come in, and will also carry the same price tag of $199.99 and $249.99 with a 2-year contract.
With a slew of new phones coming to Verizon this holiday season, including the Motorola DROID RAZR HD and RAZR MAXX HD, Samsung Galaxy Note II, HTC DLX (Droid Incredible X), LG Optimus Blaze (Optimus G), and LG Spectrum II, we wonder if the two new colors of the Samsung Galaxy S III is enough to keep customers interested in buying one. Unfortunately, we have yet to hear new on the 64GB version of the Galaxy S III that was due out by the end of the year.
source:
Verizon Wireless