Verizon posts changelist as Motorola DROID Turbo 2 is updated to Android 6.0
2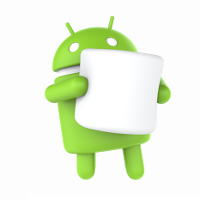 The first smartphone with a shatterproof screen, the
Motorola DROID Turbo 2
, is now in the process of being updated to Android 6.0
following a brief soak test
. Verizon has posted the changelist for the new files, which include
Doze
. The latter takes over when your DROID Turbo 2 has been inactive for a while, and extends the battery standby time by putting your phone into a deep sleep state. Apps stop running in the background, and the Turbo 2's already massive battery is able to last even longer.
With
Google Now On Tap
, contextual search results are displayed in the app you are using, based on what you are doing with your phone at that time. And with the update, you are asked to give permissions to an app on a feature-by-feature basis. The permission request is made only at the time it is required. And with Android 6.0, you can decide what happens when you press a web link. You can arrange for the link to always open in the app, always open in the Chrome browser, or be given a choice each time you click on a web link.+-
Android 6.0 also allows you to use your microSD cards to carry internal device storage. It also allows you to configure Do Not Disturb to block everything but apps and contacts that you deem important, block everything but alarms, or to block everything. Volume controls are changed so that the side volume keys on your phone will adjust your ringtone volume, and an on-screen slider will change the media and alarm volumes.
If an app you're using supports it,
Direct Share
will allow you to share to a contact or a conversation being held inside an app. Among the Motorola features, "
Attentive Display
" will dim the screen if you're not looking at it. Under
Moto Assist
, you can set your phone to read you messages while you are driving or end up at a certain location. Open the app, tap on the icon at the top right of the screen, go to Voice and select Talk to me.
Verizon says that you should be on a Wi-Fi network, or in a location with a strong Verizon signal before starting the updating process. Your battery should be fully charged. And for those still rockin' the previous generation's
Motorola DROID Turbo
, don't be envious. You are also scheduled to be updated to Android 6.0 in the future.
source:
Verizon
via
AndroidCentral