Verizon leak has Galaxy Nexus with 32 GB of storage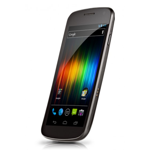 This is quickly becoming a case of he said/she said. On Sunday,
Google quietly changed the specs
on the official Galaxy Nexus website killing the 32 GB LTE option, but a new Verizon leak brings it back to life.
We have no idea who to believe, but it doesn't help Verizon's side with the fact that this document has a picture of a Samsung Galaxy S II (running what looks to be Froyo) as the image for the Galaxy Nexus. That makes us think this may be an outdated training document.