Verizon iPhone could be launched by November
This article contains unofficial information.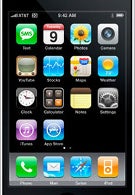 Rodman and Renshaw analyst Ashkok Kumar has been known to make some shocking predictions about the iPhone. His latest call is for the CDMA variant of Apple's touchscreen device to get launched in Novermber by Verizon. Kumar says that Apple's manufacturing partner, Asustek, is planning on building up production of the handset. Earlier this year when reports of a Verizon branded iPhone were heated up,we
told you
that contract manufacturer Pegatron would be making the phones. What is interesting is that the latter is a division of Asustek. When coincidences start piling up, it usually means that there is some veracity to a story. Even if we get a November iPhone launch for Big Red, don't expect an announcement at next week's WWDC show. Instead, we could see this story reappear later in 2010.
Apple iPhone 4G Preliminary Specifications
source:
TheStreet