Verizon cuts the price on Droid handsets; R2-D2 version is now free with a 2 year contract
12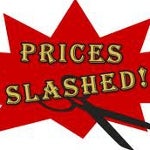 All of you patient Verizon customers who have waited for prices to drop sharply on the carrier's Droid handsets, your moment has arrived. Clearing room on the shelves for the upcoming 4G enabled and dual-core handsets, Big Red has knocked at least $100 bucks off the price of the "senior citizens" in its Android line-up.
For example, if you're hungry for the 4.3 inch display and 1GHz speed of the Motorola DROID X, that handset can be had for just $49.99 with a signed 2 year contract. A Certified Previously Owned version of the phone is free with your John Hancock on a 2 year pact.
The Motorola DROID 2 Global (including the white version) is now available for $99.99 with a new contract and as Yoda might say, free is the R2-D2 limited edition of the DROID. Of course, the signed 2 year contract is a requirement.
The Motorola DROID Pro, the model designed for the pinstriped crowd that usually carries a BlackBerry, has been sliced to $79.99 and a CPO version of the HTC Droid Incredible is free. Both also require you to extend your stay at Verizon by 2 years.
For the rest of the new prices, check out the image below. Verizon has not stated when the sale will end. and we must add that a data plan is required for each of these handsets. Still, some of these prices are amazing and must make Verizon customers think twice about how to utilize an upgrade. Do you pick up the beastly Motorola DROID X now for $49.99 and own the current flagship model for the carrier, or do you hold out and pay more for the next wave of devices, like the late arriving HTC Thunderbolt, the Motorola Droid Bionic or the HTC Merge?
source:
electronista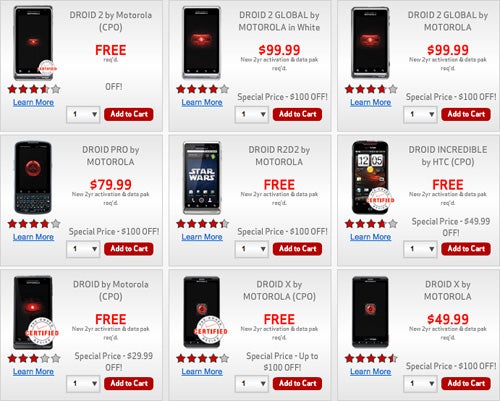 To make room for the next wave of hot Droid handsets, Verizon has slashed prices on the Droid models in its current line up