Verizon and AT&T neck and neck as bidding enters the final round for Yahoo's internet assets
1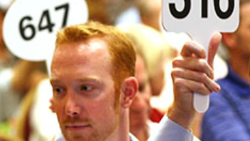 The nation's top two largest mobile carriers, Verizon and AT&T, are reportedly neck and neck in the auction for Yahoo's core internet assets. The auction is coming up to its third and final round, and Verizon is believed to have bid in the lower end of the $3.5 billion-$5 billion bidding range for the second round.
Yahoo is a one time internet superstar that failed to keep up to the changes that took place with the rise of Google and the advent of the smartphone. In many ways, Yahoo's plight is similar to what happened with AOL. The latter was
eventually purchased by Verizon last year for $4.4 billion
. Verizon is said to be interested in Yahoo's advertising technology. In addition, Yahoo search, messaging and email services could mesh well with the corresponding AOL service. AT&T is also said to be interested in Yahoo's mobile advertising technology as it tries to catch up to Big Red.
Also making it through to the final round is a consortium backed by one of the richest men in the world, Warren Buffet. There were some private equity firms who participated in the second-round, but were not invited back for the last round of bidding.
Yahoo's investment banks have their work cut out for them since each bidder included only specified assets in their bids. Some are not interested in Yahoo's patents, while others do not have an interest in the company's real estate holdings.Yahoo expects to conclude the bidding next month.
source: Reuters
Recommended Stories