Verizon activated close to 5.5 million Apple iPhones in Q4
56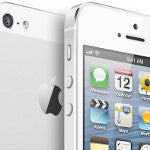 Verizon recently filed SEC Form 8-K and made a few comments about the quarter that ended last month. According to the filing, Verizon activated a total of 9.8 million smartphones over the three month period with a higher mix of Apple iPhones in the total. Additionally, Big Red told the SEC that it
added 2.1 million new post-paid subscribers
on a net basis.
Considering that in the 2011 fourth quarter, the Apple iPhone comprised 55% of Verizon's smartphone activations, the "higher mix" of iPhone activations for the final three months of 2012 could be
no less than 56%
. Take that figure, multiply by the 9.8 million smartphones activated in Q4 and you cam easily calculate that Verizon activated 5.49 million units of Apple's iconic smartphone from October through December, 2012.
downward pressure on the carrier's gross margins
for the period, but probably not enough to seriously impact earnings for the three months.
AT&T continues to have a much higher mix of Apple iPhones in its smartphone activations. Last year, the Apple iPhone accounted for a whopping 82% of the operator's smartphone activations in the fourth quarter versus the aforementioned 55% at Verizon. This year's fourth quarter will show Apple's smartphone accounting for more than 80% of the mix at AT&T vs. the 56% at Verizon according to Chuck Jones, an analyst that covers the industry.
Interestingly, prior to the launch of the
Apple iPhone 4S
, the iPhone accounted for 56% of AT&T's smartphone activations. The next quarter, following the launch of the 5th generation iPhone, that percentage rose to the 82% that we already mentioned. The Apple iPhone 4S also jacked up the iPhone's share of the smartphone mix at Verizon from 36% of activations to 55% the very next quarter. Was Siri responsible for this?
So what percentage of smartphone activations at AT&T and Verizon does the
Apple iPhone 5
represent? 81% and 61% respectively. You can say that the reason for the 20% gap between the the top two U.S. carriers dates back to AT&T's exclusive rights to the Apple iPhone in the U.S. from June 2007 through February 2011. Showing the power of advertising, there might be many Apple iPhone buyers in the states that immediately think of AT&T when they decide that they want to buy an Apple iPhone.
source:
YahooFinance
via
Forbes