Verizon CEO Seidenberg: Verizon still interested in the iPhone, but it is Apple's decision
This article contains unofficial information.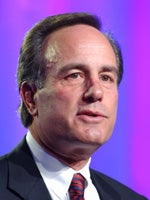 Verizon has been beating up on the iPhone lately, calling Apple's iconic touchscreen device the 'iDon't' in a series of ads for the upcoming Android powered Motorola Droid. So you would think that Big Red has absolutely no interest in the device. Think again. Verizon CEO Ivan Seidenberg says that his company is still interested in the iPhone, but that it is up to Apple to make the decision to put the phone on the nation's number one network. The executive said, "This is a decision that is exclusively in Apple's court. We obviously would be interested at any point
in the future
they thought it would make sense for them to have us as a partner." The CEO gave Apple its' props over the success of the device, "Wehave to sit back and give them credit for that," said Seidenberg, "Our view isto broaden the base of choice for customers, and hopefully along theway, Apple, as well as others, will decide to jump on the bandwagon." With Apple refusing to comment on when its' exclusivity deal with AT&T in the U.S. expires, it might not be until Verizon rolls out its' 4G LTE network nationwide before we see a Verizon branded iPhone.
Apple iPhone 3GS Specifications
|
Review
source:
TopNews