Verizon apologizes for late Pixel XL deliveries by shipping a free Daydream VR headset
13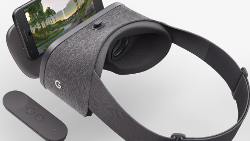 The
Google Pixel XL
has been in short supply at Verizon. We've passed along some of the stories from
those who ordered the 128GB version of the HTC-built device
only to find out that
they won't get the phone for months
. It is frustrating and there is plenty of blame to go around. Verizon, for its part, is trying to placate those who had/have to wait for their Pixel XL to arrive by sending them a free Google Daydream View VR headset.
The regular price of the Daydream VR Headset is $79, although Google is offering it until February 25th at a price of $49. Still, that is not a bad consolation prize to just sit and wait. It might not seem so while you are still using your
HTC EVO 3D
waiting for your new phone to arrive. But as soon as the Pixel XL is in your sweaty little hands, you'll be glad that you received the headset for free.
Google says that it is working hard to restock the shelves of its partners with all Pixel models, especially with the 128GB Pixel which has proven to be a home run for the search giant. HTC brass is probably happy as well, since it is getting paid to produce the handsets. Remember, HTC first made its name by manufacturing for other companies. Don't forget the
Sony Ericsson Xperia X1
, the Nexus One and the T-Mobile G1 were some of the devices that rolled off the manufacturer's assembly line.

If you ordered a Google Pixel XL from Verizon and have been waiting a long time for it to arrive, or if it already was delivered to you months late, you just might get a call from Verizon like our loyal reader did a few weeks ago. If you want to be more aggressive, there is no harm in calling Big Red and asking them to put you down for one of the free Daydream View VR headsets.

source: Reddit via XDA