VVVVVV lands on iOS and Android, you'll die a gazillion times before you complete it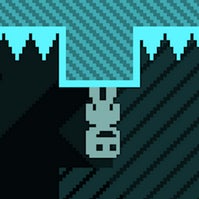 Most of the platformer games out there are pretty hard, but VVVVVV is in a league of its own. Initially released in 2010 for desktop platforms, this retro 2D platformer just made its way on mobile devices, as it just arrived on iTunes and Google Play. As the popular saying goes, the simple things are the hardest to accomplish, and VVVVVV proves this once again. It is one of those games that are pretty simple at first sight, yet impossibly complex upon closer inspection. As a matter of fact, VVVVVV has the potential to cause as much frustration as
Flappy Bird
did, if not more.
You play as the pixelated Captain Viridian of a vast space station, but unfortunately, your crew is missing. Of course, being a captain of your word, you embark on a dangerous quest to rescue your lost companions. So far, so good. What makes VVVVVV a pretty hard game is its curious gameplay – Captain Viridian can't jump, he can only move left or right. Still, he has a unique ability, which allows him to reverse gravity. Thus, he is able to dodge an ample amount of hazardous traps. Most of these consist of sharp spikes, which are the bane of Captain Viridian.
On top of it all, later levels come with moving platforms and enemies, which further increase the difficulty of the already hard game. Yes, you will die numerous times before you complete each level. Fortunately, a number of life-saving checkpoints are scattered across each level.
VVVVVV will frustrate gamers that use either Android or iOS devices. The frustrating gravity-bending platformer will set you back a few bucks, but it is definitely worth it. What's more, if old-school platformers float your boat, then VVVVVV is a must-play game for you.
Download: VVVVVV (
iOS
|
Android
)
via:
Pocket Gamer