Users of HTC EVO 4G complain that the latest update has messed up their phone
40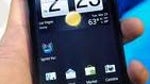 Back near the middle of the month, we
reported
that Sprint sent the HTC EVO 4G a minor maintenance upgrade that included the Swype keyboard, the Scan Now Widget for 4G, improved Sprint TV and Blockbuster among others. One owner of the handset told us that his device was working perfectly until the upgrade. Now he claims that since downloading the new firmware, battery life is shorter and that the phone can not seem to stay connected to a Wi-Fi signal. Furthermore, he notices that the EVO 4G has started to lag.
Our unhappy HTC EVO 4G owner is not the only one experiencing this sudden change in his phone's disposition. Some are complaining that certain notifications are not showing up like they once did. One unlucky owner has his SD card unmount itself 4-6 times a day since the update. Another user has his EVO 4G turn on its speakerphone whenever he brings the handset to his ear and some users are finding that while connected to Wi-Fi, their phone loses its internet connection.
No word yet from Sprint or HTC, but we would expect another upgrade to be sent to fix all the bugs that the last upgrade created.
Thanks Anonymous Tipster!