Use Android Pay and earn a free Chromecast through Google's Tap 10 Promotion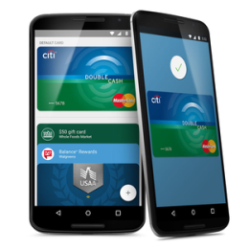 In an attempt to get more users past those critical first payments, Google has announced a special promotion involving
Android Pay
.
Though Google's new Tap 10 campaign, which is now open and will last through February 29th, users earn free goodies when they complete payments using Google's NFC-enabled mobile payment service.
The first payment that you'll complete using Android Pay will grant you a free song of your choosing from the Play Store, as will the second and the sixth payments. Complete ten payments by the end of the promotion and Google will hand you a free Chromecast dongle, usually priced at $35. Overall, the free goodies really don't amount to that much in terms of raw value, but Google is probably hoping that a small incentive will be enough to get more users on the Android Pay bandwagon.
At this point, it should be mentioned that not everyone is the US is currently seeing the promotion inside the Android Pay app. When the new Android Pay app version propagates to your device, an 'Android Pay Rewards' card will show up in your virtual wallet. Tapping the card will bring up details on the promotion, as shown in the screenshots below:

What do you guys think of Google's Tap 10 promo? Will it be enough to get you to register a card with Android Pay and start making your first few payments?