Update pushed out to U.S. Samsung Galaxy S8 improves performance of the phone's features
34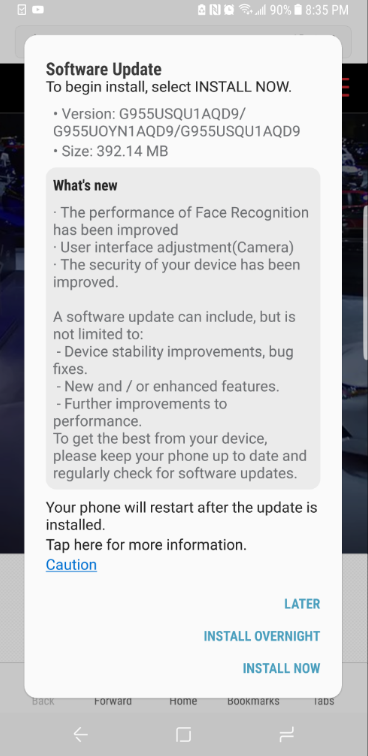 The Samsung Galaxy S8 is receiving an update today
One of our loyal Phone Arena readers has just received an update for his
Samsung Galaxy S8
. As you can see from the screenshot that accompanies this story, the size of the update weighs in at 392.14MB. When the notification arrives on your Galaxy S8 announcing the arrival of the new files, make sure that you are on a Wi-Fi network before starting the updating process. Before installing the update, you should also make sure that the battery on the device is fully charged.
According to the changelist, the update will include:
Improved performance for face recognition.
The camera's UI has been adjusted.
The security of the device has been improved.
Device stability improvement and bug fixes.
New and enhanced features.
Further improvements to performance.
Because the phone cannot be employed while the update is being installed, Galaxy S8 users have the option of installing the update later or overnight. If the phone's owner is expecting an important call and disabling the calling feature for 15-30 minutes is not feasible, one of those two choices can be selected.
Since the Galaxy S8 and Galaxy S8+ are pretty much joined at the hip, you can expect the same update to be made available for the larger model.

Thanks for sending this in!