Update absurdity: Samsung's 2017 Galaxy A phones are still on Android 6
58
This article may contain personal views and opinion from the author.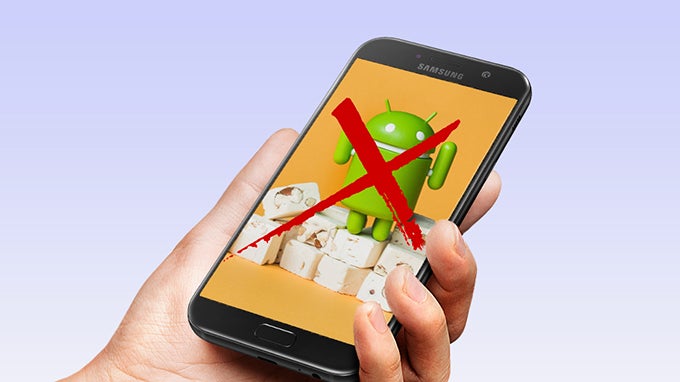 Here's a riddle: octa-core processor, great battery life, glass-metal body, IP68 water/dust resistance, released in 2017. Which Samsung smartphone comes to mind? We wouldn't blame you if your answer is either the
Galaxy S8
or
S8+
, as both of these flagships possess such characteristics.
However, these features can also be found on another series of Samsung phones introduced in the last 7 months and 21 days. Namely, we're talking about the company's A lineup and its three representatives for this year – the
A3
,
A5
, and
A7
.
While the three handsets do differ in terms of screen size and hardware specs, they do share two big similarities as members of the 2017 A team – the trio boasts the same great design which is commendable, but what's also true is that all of them are still running on Android 6 Marshmallow at the time of writing. And that is completely and utterly absurd.
Why is this important?
Android 7.0 Nougat was officially released on August 22, 2016. That's a whopping 11 months ago. One might argue that the lack of Android 7 might be excusable if these were some low-end $150 handsets from 2016, but this is simply not the case here.
All three of these devices were announced and subsequently hit the shelves this January, more than 3 months after Nougat was made available. These are representatives of Samsung's upper mid-range class and sit directly below its "S" and "Note" series, as constituted by their initial price tags that varied between €330 ($384) and €450 ($524) and, most importantly, their features and build quality.
The 2017
A3
and
A7
got a grade of 8/10 in our reviews, while the
A5
was awarded a score of 8.5 - a testament to just how impressed our reviewers were when they got to try these mid-rangers out. Last but not least, the "A" in the Galaxy A series stands for the word "Alpha", which is another supposed big evidence of the lineup's standing in the Samsung smartphone hierarchy. Well, if that's the case, is it
Alpha
to cruise on a version of Android from 2015? To put the cherry on the cake, the older 2016 A series phones are actually on Android 7, which completely defies all logic.
Trying to answer the million-dollar question
So, what's the reason for this absurdity? Well, probably no one outside of Samsung HQ really knows the answer to that question, so let's shamelessly speculate.
The 2017 A5 and A7 models are one of the few Samsung handsets that use the Exynos 7880 processor (could very well be the only ones). There might be some sort of an issue with that specific SoC which caused the entire delay of the software upgrade. Meanwhile, the A3 sports an Exynos 7870 chipset, which can be found on the 2017 Nougat-powered
J5 and J7
, but there could very well be a backlash against the company if it decided to update the cheapest A version first. As such, all the A models are essentially in the same boat.
If you want to completely dive into wild tin foil hat territory, consider this – the A lineup is not officially available in one of the biggest global markets – the USA. This could be due to the A5 and A7 providing a lot of the flagship pizzazz at a much lower price tag, so selling them stateside could undermine sales of the S series. However, the phones are available in Canada and Latin America and one can easily buy an unlocked GSM version on Amazon or any other big e-retailer, so Samsung might be delaying the update to make them less appealing to potential buyers. This speculation might be completely bonkers, but so is the entire situation.
"B-But the 2017 A series will get an update any time now"
Yup, that's true, there are sightings of
A3
and
A7
models running Android 7 on Wi-Fi Alliance, which is a pretty certain indication that the update is coming to the 2017 A lineup in the following days or weeks.
Samsung also confirmed that the software upgrade is going to happen, but does that really change the fact that people who bought these smartphones have to wait so long to get it? Meanwhile, the situation on the security update front isn't that much better. For example, the A3 received its
very first Android security patch
at the end of June and it had the fixes for the month of May.

And finally, we mustn't forget that Android O is just around the corner, so what happens then? Will consumers have to wait till next year for that?

The 2017 A3, A5, and A7 are undoubtedly well-made phones, but people who bought them also deserve to receive proper software support, at least for a certain amount of time. Otherwise, it's a ripoff.