Samsung Galaxy A7 (2017) Review
17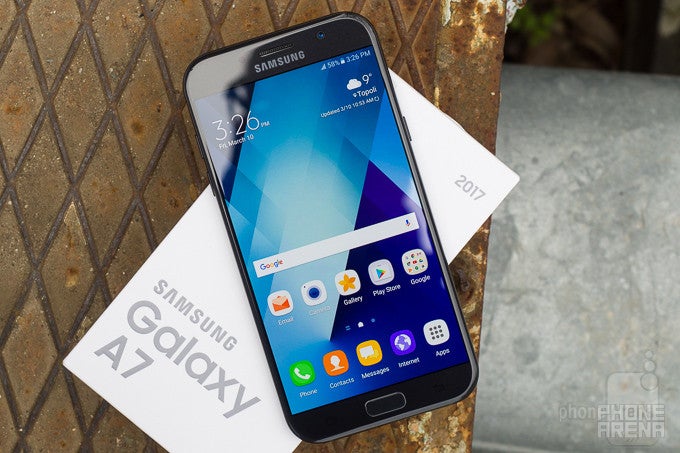 Update

: You can now read our Galaxy A7 (2018) review!

Introduction
Samsung released a pretty strong entrance in the mid-range Android segment with the waterproof 2017 A-series trio, and now we have the largest of them all –
Galaxy A7
– to check out on. It shares specs with the
A5
, which we already reviewed – 14nm Exynos chipset and two 16 MP cameras – but has a half an inch longer display diagonal and a 20% larger battery. Will these warrant the price difference between the two for big screen aficionados? Let's find out...
What's in the box:
Samsung Galaxy A5 (2017) model SM-A720F/DS (dual SIM)
User Manual and warranty leaflets
Sim ejector tool
USB-A to USB-C cable
White Samsung OEM EHS64 earbuds with replaceable rubber tips
2A wall charger (15 watts peak, 9V and 1.67A, or 5V and 2A)
Design
Samsung is moving its flagship glass-and-metal chassis downmarket, so don't drop the A7 biggie.
Our Galaxy A7 (2017) looks like a nondescript black slab before you pick it up, but when you do, the premium crafting is palatable. The phone is also available in several other colors, including a very nice pastel blue. Samsung moved the glass-and-metal design of its flagships downstream this year, and as a result the A7 has a dark metal frame sandwiched between two plates of glass. It's not Gorilla Glass 5, though, and as the case is with all types of glass, it will crack if subjected to enough impact force.
The A7 is a pretty big phone, too, with a 5.7" display, so make sure you don't drop it while getting it out first, before you have gotten used to the grip needed to secure its dimensions in your palm. The biggest downside of the handset stems precisely from its largish display, as it is not very conducive to handling in the palm only, especially if it has a case tacked on, too.
The sides of the phone are busier than usual, as Samsung has moved the speaker from its traditional place on the back or bottom where it is likely to get covered during certain activities, to the right side, above the home key. It's a good placement, and the speaker grill isn't covered easily when you watch videos in landscape mode as we were afraid it would. The power key on the right, and the volume buttons on the left are somewhat thin, but made out of sturdy metal, they don't wobble, and are easy to find and press without looking if need be.
Last but by no means least, Samsung has provided two SIM card trays in the A7 Duo version. Given that this phone will be sold in regions where dual SIM card phones are very popular, it is going to prove a wise decision. Moreover, the A7 can function with two SIMs and a microSD card inserted at the same time, unlike many dual SIM phones that make you choose between dual SIM functionality or expandable storage.
All SIM card slots are plug and play, too, there is no need to power down the phone first in order to add or swap SIMs.Dreamy! We'd advise against doing that with the secondary combined tray at the top, though, as it also houses the microSD card, and, if you are writing something on it at the moment, taking it our without powering off the phone may result in loss of information on it.
Display
Same old, same old AMOLED advantages and mishaps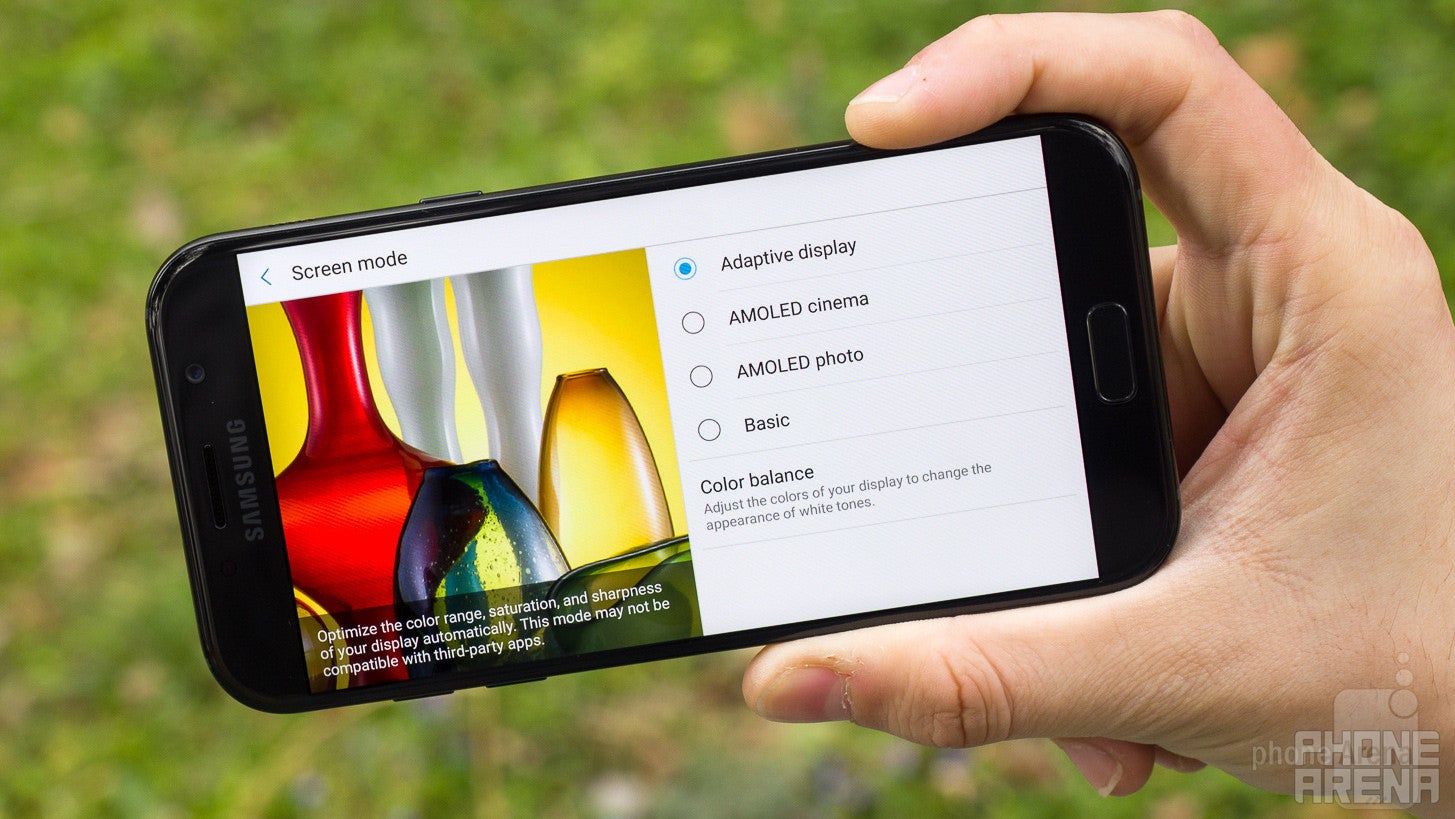 Move on, people, nothing to see here, just your run-of-the-mill 5.7" Super AMOLED display with 1080x1920 pixels. We can't scoff at the resolution as it is perfectly enough and allows for longer battery life, but we can whine about the viewing angles. The color shifts to overly cold and blueish with the slightest tilt of the phone, which, if you are coming from an LCD panel, can be pretty annoying.
Other than than that, if you run the Galaxy A7's display in Basic mode, it will exhibit credible colors with tamed saturation levels. In the default Adaptive mode, however, the phone is becoming your typical loud AMOLED with flashy, overzealous colors. The screen is bright enough, and with low reflectance ratio, so it is comfortable to view outside.
The A7 also has 'Always-on Display' mode that shows you the time, date and the type of missed notifications even when your screen is locked (but not the actual notifications). The letters are well contrasted and easy to see, but be warned – this will have a noticeable impact on battery life.
Display measurements and quality
Recommended Stories