Unlimited streaming music coming soon to iPhone and Android from MOG
This article contains unofficial information.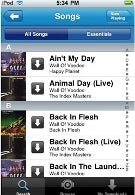 MOG has announced that early next quarter, it will be offering an app for both the Apple iPhone and Android OS that will allow a user to stream music over his handset. For $10 per month, MOG will provide a listener unlimited streaming from over 7 million tunes that it has in its catalog. The price includes accessing the service from your desktop computer. Other features allow you to listen to any song from any artist on-demand, in unlimited amounts. You also will have the ability to listen to MOG Radio which will play a never ending stream of music based on a track or artist, with you in control of how many similar artists are in the mix. A unique slider control allows you to choose from "Artist" only radio or add in similar Artists into your list. Songs can be made into a "local cache" so that the music never stops, even if you are out of Wi-Fi range and your 3G connection is off. Songs can be downloaded at 64kbps, or in HQ which will download the tune to a bigger file with better audio quality.
Rhapsody also made an announcement today, saying that offline playback support for the iPhone is coming, but the updated app must first meet with approval from Cupertino. With a $15 per month price tag, we could start to see some battles going on amongst music providers. Usually in a price war, the consumer is the winner as prices drop.
source:
MOG
,
Switched
,
RhapsodyBlog
via
EngadgetMobile