Unannounced Nokia Lumia 929 purchased in Mexico
35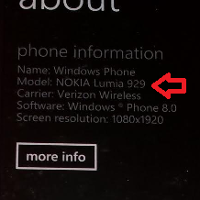 One of our loyal readers in Mexico has been able to obtain the
Nokia Lumia 929
. The interesting thing is that this model has yet to be unveiled by Nokia. As we've said before, this could end up being one of the most important Windows Phone models ever released. Thanks to the GDR3 update, the Nokia Lumia 929 matches up specs-wise with any of the high-end Android models. And since it carries a 5 inch screen instead of the 6 inches found on the
Nokia Lumia 1520
phablet, there is a good chance that the Lumia 929 will be an easier sale than the possibly unwieldy-to-some Lumia 1520.
The Nokia Lumia 929 is a litmus test for the platform. It will be the first phone (as opposed to phablet) that will match up a Windows Phone model with Android flavored models like the
Samsung Galaxy S4
,
Sony Xperia Z1
and
LG G2
.
Windows Phone has recently picked up market share globally
, and if Microsoft's mobile OS is going to challenge the duopoly at the top, this will be a phone to watch.
The latest information we have is that the phone will be launched via Verizon (where it will be an exclusive in the U.S.) in
mid to late December
. That seems to be
confirmed by the launch date of some accessories for the phone
that Amazon is releasing on December 20th. In the meantime, you can checkout some screenshots from the Nokia Lumia 929, pictures of the device and pictures taken with the 20MP PureView camera on the back of the handset. We're sure that there are some readers jealous that our lucky tipster was able to stumble onto the Nokia Lumia 929. But don't be upset. You could be holding your own Nokia Lumia 929 in the not too distant future. Also keep in mind that this could be a prototype and not a final production version.
Thanks, Anonymous Tipster!