Ubuntu Edge funding campaign collects $2M in under 12 hours
8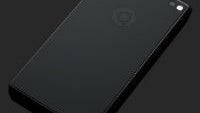 Earlier today, we let you know all about the newly announced
Ubuntu Edge
, which Canonical is planning as its flagship developer device that will show off its vision for
convergent computing
. In order to generate the cash needed to produce the device, Canonical turned to crowd-sourced funding on Indigogo with an aim of $32 million total; and, it's off to a solid start.
The funding campaign crossed the $2 million mark in under 12 hours; and, as of this writing the campaign was closing in on $2.5 million. There have already been over 4400 donors, including 2 donors who have gone for the "One of a Kind" option which costs $10,000. By far the most popular option has been the $600 option which will expire tomorrow at 11AM EST.
It's no surprise that the $600 option is most popular, not only because of the expiration date, but because the Ubuntu Edge will be quite the beast of a device. Specs are subject to change, but Canonical is promising "the fastest available multi-core processor, at least 4GB of RAM and a massive 128GB of storage", and a 4.5" 1,280x720 sapphire crystal display. And, of course the big news is that the device will not only run Ubuntu Touch, which will become full Ubuntu when docked, but that the device will dual-boot Android.