Uber CEO Kalanick quits Trump's advisory panel
12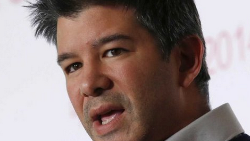 When the #DeleteUber campaign started last weekend, one of the reasons given for its existence was the fact that the CEO of Uber belonged to a panel advising President Trump on business trends. But today, Travis Kalanick decided to quit Trump's advisory council. Sending a memo to employees, Kalanick wrote that Trump's executive order creating the immigration ban was his reason for quitting.
We suppose it had nothing to do with the massive surge in Uber app deletions, and the large number of people who installed the Lyft app. The combination
resulted in Lyft overtaking Uber on the App Store's free app list
for the first time ever. There are now 18 business leaders on the council, which is scheduled to hold its first meeting tomorrow. Among the influential executives and former executives still participating are GE's ex-CEO Jack Welch, Bank of America CEO Jamie Dimon and Elon Musk of Tesla. The panel is charged with telling the president how certain government policies will impact the business world and the jobs market.
Kalanick's decision to cut ties with the council, which is officially named the "Strategic and Policy Forum," could lead to more protests from consumers against corporations run by executives seen as favoring Trump. It remains to be seen whether Kalanick's move is too late to reverse the damage as far as Uber is concerned. So many people had removed the Uber app from their mobile devices,
the company had to internally automate the deletion process
for the first time in its history.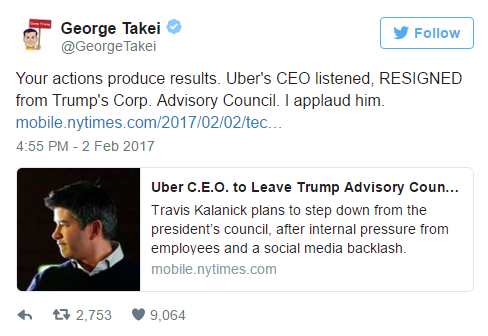 Celebrities applaud Travis Kalanick for quitting his ties to Trump's economic advisory council
source:
CNN