Lyft gets a lift from Uber's problems to hit number 4 on the App Store charts
21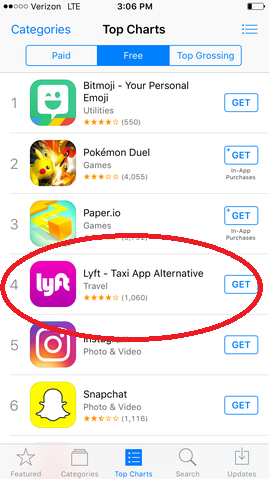 Lyft rose to number 4 on the App Store charts
Ride-sharing service Lyft was catapulted into the top app rankings for the Apple App Store on Monday. By yesterday afternoon, Lyft's app was the fourth most popular on the free apps chart. As recently as Saturday, the app was number 39. Lyft rival Uber is number 13. It actually was a campaign over social media dubbed hashtag #DeleteUber that led to Lyft's strong rise on the App Store charts.
Uber had a rough weekend. While everyone in the tech world came down strongly against Trump's immigration ban, Uber CEO Travis Kalanick left a message on Facebook that pulled his punches. Kalanick belongs to a forum of business leaders that advises the president. Uber also dropped surge pricing during protests at JFK Airport in New York City. The demonstrations led to a taxi strike as drivers aligned with those Americans who felt that Trump's executive order was racist.
As a result, Uber was seen as being a strike buster in addition to being in favor of the Trump administration, which was not the side that a high profile corporation would want to be on this past weekend. The #DeleteUber hashtag, which continues to trend on other social media sites, is being backed by several celebrities. And to add insult to injury, Lyft donated $1 million to the ACLU over the next four years. It also released a statement blasting Trump's executive order.
Kakanick wrote a second Facebook post calling the ban "unjust." He also promised to fund a $3 million defense fund for Uber drivers with immigration issues. But it might be too little too late. The second statement by Uber's CEO was the subject of sponsored tweets disseminated by Uber, but the response from the Twitter universe has not been positive.
source:
CNET
Recommended Stories