U.S. version of Samsung Galaxy S II replaces iPhone-like home button with Android one
42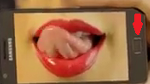 Has Samsung provided evidence in favor of
Apple's claim
that the Korean company has
copied designs from the Cupertino based firm's products
? Yesterday we
reported
that Samsung had released a video teaser for the U.S. version of the Samsung Galaxy S II and within that video may lie proof that Apple could have a strong case.
If you look closely at the video, the Samsung Galaxy S II being used in most of the scenes has an
iPhone-style home button below the screen
. That is the version that we have seen in most pictures of the handset that has been called the best Android phone ever made. But at the end of the video, there is a change. The picture of the Samsung Galaxy S II used has typical Android buttons instead of the iPhone-esque home button.
Apple's lawsuit has apparently claimed specific parts of the Samsung devices have been copied from Apple, including the home button on the Samsung Galaxy S II. In Samsung's favor, it can say that it did the same thing with the Samsung Galaxy S last year, but it also makes it appear that
the Korean manufacturer made a conscious decision to change the design
for U.S. units so as to prevent a possible ban on moving phones into one of its most important sales destinations.
source:
electronista