U.S. Cellular launching dedicated Samsung spaces within its own stores
9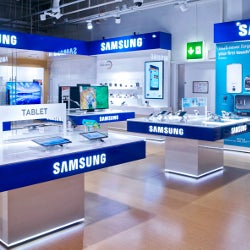 Yesterday, U.S. Cellular launched a Samsung "store-within-store" at one of its own establishments in Madison, Wisconsin. This marks the first ever Samsung-exclusive space to be opened in an USA carrier's shop, and 57 of these are to be launched in other U.S. Cellular stores in the next couple of months.
The area is about 100 square feet big and is filled with Samsung gadgets, exposing the user to the full Sammy experience. A unique virtual assistant guides visitors around and there is staff on site to help customers with any questions regarding the latest hot products —
Galaxy Note 7
,
Galaxy S7
, Gear VR, Gear S2 and more.
Joe Settimi, president of U.S. Cellular said the area is meant to enrich customer experience, providing better service to visitors and educating them in the new offerings so they can confidently purchase the devices that they need and want.
Samsung's gadgets definitely don't suffer from lack of exposure — ever since the company started designing its phones to look and feel like the shiny premium products that they are, and since it hit the nail on the head with
the circular Gear S2 smartwatch
, the company has not shied away from
promoting the devices heavily
. Still, a place like this dedicated Samsung store-within-store is a great place for users to actually get acquainted with the gizmos, and might also draw more customers in for U.S. Cellular.
CHICAGO--(BUSINESS WIRE)--U.S. Cellular (NYSE: USM) unveiled its Samsung 'store-within-a-store' concept today at a store in Madison, Wis. The company is the first wireless provider in the U.S. to offer a Samsung product-focused store-within-a-store experience to customers in company-owned stores.
The concept, which consists of a 100 square-foot dedicated branded Samsung experience area within a U.S. Cellular store, is set to roll out at approximately 57 retail store locations now through October.
Each Samsung store-within-a-store includes an interactive, one of a kind, virtual host, designed to help customers learn key features and benefits of the latest Samsung devices. The virtual host will respond to the customer and guide them through the devices on display. Staffed by specially trained U.S. Cellular associates, the area also provides customers with the ability to immerse themselves into Samsung's full range of products – including the Galaxy Note7, Galaxy S7, Gear VR headset, Gear S2 Smartwatch store-within-a-store experience and more.
"As the first of any U.S. wireless carriers to offer a Samsung product-focused store-within-a-store concept in its company-owned stores this collaboration demonstrates how U.S. Cellular is redefining and enriching the customer experience," said Joe Settimi, vice president of marketing for U.S. Cellular. "This dedicated area allows us to provide even better service to our customers without compromising their need to confidently purchase or learn more about a device that meets their needs."
About U.S. Cellular
U.S. Cellular is the fifth-largest full-service wireless carrier in the United States, providing national network coverage and industry-leading innovations designed to elevate the customer experience. The Chicago-based carrier has a strong line-up of cutting-edge devices that are all backed by a high-quality network in big and small cities and rural communities, and currently, 99 percent of customers have access to 4G LTE speeds. U.S. Cellular was named a J.D. Power and Associates Customer Champion in 2014 for the third time in four years. To learn more about U.S. Cellular, visit one of its retail stores or uscellular.com. To get the latest news, promos and videos, connect with U.S. Cellular on Facebook.com/uscellular, Twitter.com/uscellular and YouTube.com/uscellularcorp.

via:
BusinessWire