Apple releases new ads for the iPad Pro, and iPhone X
37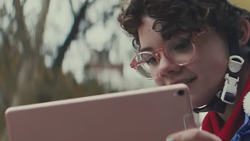 A pair of new ads were released today for the Apple iPad Pro and the
Apple iPhone X
. The 15 second iPad spot stars the little girl named Scout, who
also appeared in a previous commercial for Apple's high-end tablet line
. In that ad, which did get plenty of rotation on television, you might recall that when a neighbor saw Scout outside playing with her iPad Pro, she asked Scout what she was doing on her computer. The little girl answered, "What's a computer?" The new ad, which once again shows off Scout's bicycle riding prowess, focuses on Augmented Reality. We know how much AR is a priority inside Apple, and it seems that the marketing guys in Cupertino want you to know that too.
So there is Scout, riding her bike in the park when a bench captures her attention. A gentleman is there, reading the paper and minding his own business. Why he isn't getting his news from a smartphone is something that only the creators of the ad know. Anyway, Scout uses her iPad Pro packed with iOS 11 to drop in a couch and a table in front of the bench. The point? It makes it appear as though the guy on the bench brought some of his living room furniture with him to the park. And, well, just because she can.
There is much talk about how
the 2018 iPad Pro could be equipped with the TrueDepth Camera
that adorns the Apple iPhone X. That means that Face ID will most likely be making its way to the next generation of Apple's high-end tablets. That's something that Scout is probably looking forward to.
And speaking about the Apple iPhone X, the latest ad for the tenth anniversary model focuses on (no pun intended) Portrait Lighting. According to Apple, this feature brings you studio quality portraits, without the studio. The tag line:
portraits in a whole new light
.
Both ads are embedded below for your viewing pleasure!
source: Apple (
1
) (
2
)
Recommended Stories