Two German court rulings call Apple patents into question
20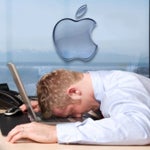 Apple is having a grand day today in terms of sales, as their
new iPad
enters retail channels (and likely sells out in minutes). In the legal domain, however, their fortunes have not fared as well. Two rulings in two separate cases today stayed claims by Apple, as both courts found the validity of Apple's patents to be questionable.
Perhaps most gratifying to frequent readers,
Apple's utility patent for their
slide to unlock feature
is being put on hold
while the German patent office reviews its validity. Apple was trying to assert two different slide to unlock patents against Samsung in Germany; the first was thrown out in early March, so Apple is finally running into a
significant headwind
over a patent that has clearly demonstrated pre-existing art. While Apple would be able to continue to sue over the utility patent if the review comes back in their favor, Judge Andreas Voss indicated that the court is concerned about the validity of all aspects of the patent, especially in its scope.
That's probably cold comfort to Motorola, who actually
lost in a different German court
to one of Apple's slide to unlock patents just a few weeks ago. Motorola has vowed to appeal it, but in the mean time they received some better news in another German court case – as we
reported earlier
, Apple was suing to ban the Motorola Gleam, a flip-phone sold in Europe, based on a patent on computing devices that have glowing parts in their housing. Yes, really.
The court found that yes, the Motorola Gleam sure does have glowy-bits on the outside, so it infringes on the patent, but t
he judge refused to allow an injunction against the device, siting "serious doubt about the validity of the patent"
. In particular, Motorola's lawyers appear to have made a convincing case that Sony-Ericsson filed a prior-art patent in 1997, five years before Apple's 2002 patent filing.
Apple apparently has yet another case remaining to be ruled on today, so they have a chance to salvage a 1 for 3 win ratio. And if not, they can probably take comfort in the way the new iPad is basically printing money for them faster than they can count.
source: FOSS Patents,
1
,
2