Twitter poet hints at Nexus Prime variant with QWERTY
27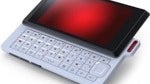 A few days ago The Panda King, who apparently has inside ties to Verizon, was exchanging lines of poetry with Tom Fleming and the riddles pointed to a
November 3rd launch date
for the Samsung Galaxy Prime (aka Nexus Prime). Well, Tom Fleming has come out of the woodwork again with some more poetry that points to a variant of the Nexus Prime that may contain a physical QWERTY keyboard.
The poetry also says that LTE is a "sure bet", that the device will have an HD screen and a dual-core CPU as we expected. It mentions "fancy new widgets" and then in the last line refers to "the one with a keyboard". This seems to point to a variant of the Prime having a QWERTY keyboard, and based on history it's possible that it may be the Sprint variant, given that with all of the Samsung Galaxy S variants, it was only the Sprint version that had a QWERTY keyboard.
As always, this is just speculation, but Tom does claim to have seen internal documents, so it's certainly possible. We definitely like the idea that one of the options would be a QWERTY keyboard, but that it wouldn't be a standard feature. We may consider QWERTY to be an a pointless legacy technology (especially with gesture keyboards and voice input available,) but we know that some do prefer having a physical keyboard.