Tweet from manufacturer confirms November 11th launch of Samsung Continuum on Verizon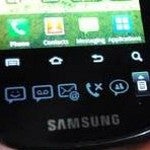 November 11th is going to be a very busy and hectic day for Verizon reps. With all of the expected launches coming on that day, a tweet sent out by Samsung confirms that the carrier will be making the Samsung Continuum one of the phones made available on Thursday. While no official pricing was released, as we
reported
, a couple of leaked documents point to the device getting priced at $199.99 after rebate and your signature on a 2 year contract. Specs wise, the Continuum rounds up the usual suspects including Android
2.1
, a 1GHz processor and a 5MP camera with AF and face detection.
The Samsung Continuum is the honored guest of a press event scheduled for later tonight where an unusual new feature will be showed off. While the phone offers a
3.4
inch Super AMOLED screen, just below it is a 1.8 inch display known as the "Ticker". Not only is this a notifications bar that shows you missed calls, text messages and e-mails, it can be customized to receive messages from your social networking sites, news, sports and tech news from your RSS feeds. In standby mode it will show you the time, date and weather and you can set how long the "Ticker" remains on for. Music playback can be controlled even while you are browsing the web, without having the phone's music player on. If this feature goes over well, you can expect other manufacturers to copy it while Samsung adds the "Ticker" to more upcoming devices.
source:
AndroidGuys