Tweet: All four major U.S. carriers to get HTC's next flagship in Q1 of 2014
22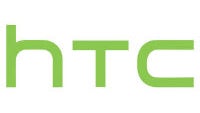 A tweet from evleaks on Monday, talks about the next flagship Android model coming from Taiwan's HTC. Just the other day,
a picture purportedly of the HTC M8's rear cover was outed
and it showed an opening above the camera that could be for a fingerprint scanner. The placement of it, though, doesn't lend itself to be used for such an application so we will have to see what HTC is cooking up.
If you haven't pulled a Rip Van Winkle, you might recall that the current HTC flagship Android model, the
HTC One
, was originally codenamed the M7. Ironically,
it was a tweet from evleaks that set the record straight
. The most recent tweet from the serial leaker reveals that the HTC M8 (will it be called the HTC One Two?) will be available on all four major U.S. carriers and will launch at the end of the first quarter next year. That means we should see the phone around March 2014. Rumors call for the M8 to sport a screen around 5 inches in size, driven by a Qualcomm Snapdragon processor with 3GB of RAM on board. Sense 6.0 will be installed.
The HTC One might have been a positive step for HTC and the manufacturer recently said that the device has been selling well, and that it is the low to mid range devices that are
helping the company spill red ink
. Not only will the M8 have to impress smartphone buyers around the world, it will need to be marketed properly, something that company
Chairwoman and co-founder Cher Wang is now responsible for
after taking that job away from CEO Peter Chou last month.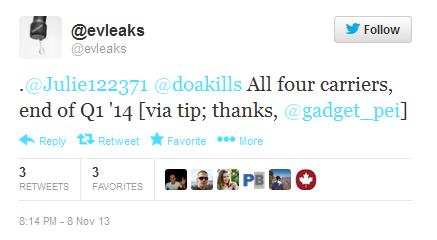 Tweet from evleaks says all four major U.S. carriers will get HTC's next flagship Android model
source:
@evleaks
via
TechRadar