Triangle 180 is a simple and addictive new puzzle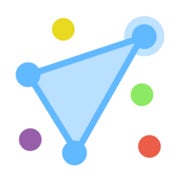 If you like puzzle games with a simple but utterly addictive gameplay, then the new Triangle 180 should be high up on your list of fresh games to try out.
As the name suggests, you will be submerged in a world of triangles in all colors, sizes, and degrees of separation. The goal is to connect three dots in one and the same color, then strike massive combos connecting triangles in the same hue. Once formed, the triangle becomes a force to be reckoned with, as it can gobble up single dots or bonus objects for a higher score.
You can throw in a campaign gauntlet, or simply have some triangular fun while waiting for the bus, in both cases Triangle 180 is shaping up to be fun and engaging (pun intended). Check out the trailer below, and grab the game from the source link if you like what you see.
| | |
| --- | --- |
| Developer: Fingerprint Studio Limited | Download: Android, iOS |
| Category: Puzzle | Price: $1.94 (Android), $1.99 (iOS) |