Tourist brings back North Korean Samjiyon Android tablet, marvel at the specs and video
12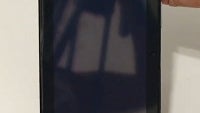 Admit it, there is a novelty value to this tablet which lends an air of allure. Outside of bragging over having a North Korean tablet, or playing a copied and version of Angry Birds, you probably will not have much use for this device.
The Samjiyon tablet may or may not be actually assembled in the hermit kingdom that is the Democratic People's Republic of Korea, but now that we can see it in action that factor probably does not matter too much.
The tourist who bought it, Michael, asked that only his first name be used so he does not catch any grief from the Dear Leader when he makes return trips to the north. That said, he initially only wanted to take a picture of it when he saw it for sale in a shop near a restaurant where he and some colleagues just had lunch.
He asked as a sort of joke how much the Samjiyon cost and decided to buy one when the price came to about $200. Not a lot of money for a tablet by western standards (not a great value either considering the hardware), but way out of reach of the common North Korean who is probably lucky to see $50 per month along with basic staples like...food.
As for the functionality of the tablet itself, some of the familiar Google are there, like a browser, gallery and camera. However, YouTube, Google Play and Gmail are not on board for obvious reasons. The browser would seem like a treat, but it appears the tablet's connectivity is deeply controlled.
We had heard there was no internet capability on board at all
, but it looks like it is hard-wired to only allow it to tune-in to government approved networks. There is also an analog TV tuner on board, so you can get DPRK approved broadcasts.
Hardware-wise, the Samjiyon features a 1.2GHz CPU, 1GB of RAM, and 8 or 16GB of storage. The display is 1024x768 resolution and dimensions of the device overall are 187x124x10mm. Physically, the tablet has what you would expect, a power/lock button, volume rocker, a camera, 3.5mm headset jack and what looks like a
mini-
USB plug. As you can see in the video, the performance seems adequate.
Suffice it to say that it does not look like the Nexus 7 has anything to worry about compared to this powerhouse coming from Pyongyang.
source:
CITE World