Toshiba's FOLIO 100 Android tablet shows major flaws
2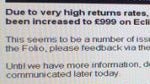 Toshiba recently released their
FOLIO 100
Android tablet in Europe, and it showed a lot of promise. With an
NVIDIA
Tegra 2 processor, 1080p video output, and custom-version of Android 2.2, it looked like it could be a success. Unfortunately, retailers are reporting a number of flaws that have brought FOLIO 100 sales to a virtual halt.
Customers are returning the tablets en masse, complaining that the device is waking from standby on its own, and is showing sluggish performance. They are also reporting a poor display, and fragile build quality. Construction aside, customers are also realizing there is no
Android Market
or Flash support.
There are custom workarounds available, and updates on the way, but this is bad news for one of the first serious Android tablets. Some retailers have reportedly pulled the item from their websites or storefronts, while others are boosting the price to deter customer interest. Future customers are further deterred by the lack of response from Toshiba.
There are many low-cost Android tablets coming to market right now, but they didn't stand to be competitive with the
iPad
, like the FOLIO 100 or
Samsung Galaxy Tab
. It is disappointing to see Toshiba release their entry so prematurely. We might expect it to inappropriately sour people's impressions of the Android tablet category as a whole when they compare it to the quality of the iPad.
source:
Electronista