NVIDIA chief says that when it comes to tablets, Google is a "little bit behind" Apple, but remains optimistic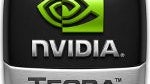 During a conference call, NVIDIA CEO Jen-Hsun Huang made a few interesting remarks on the status quo of the tablet market and said that he is optimistic about the Android-based NVIDIA Tegra 2-powered tabs. In a day and age when dissing in the gadget business is as common as it was in hip-hop music 15 years ago, he showed an utmost respect for Apple's products, but remained firmly optimistic that Google, NVIDIA and all of their partners are
"absolutely going to deliver"
.
To quote his exact wording:
"Now it's going to take something absolutely great to compete against the iPad and the iPhone, as we all know, because both of those devices are quite amazing devices. And so it's going to take something that is truly remarkable to compete against it. I think Andy and his team, and all of our engineers here working with them, and all of our partners around the world working on it, are going to absolutely deliver."
As of early November, there is no doubt that the iPad is the
tablet king with 95%
market share, but that's understandable, because before the recent arrival of the Samsung Galaxy Tab, the Apple gadget didn't have a worthy foe. As you probably know, the signs point to the fact that the tablet-optimized Android 3.0 (Honeycomb) is going to embrace devices based on the dual-core NVIDIA Tegra chip, like the highly-anticipated tablets coming from
LG
,
HTC
and
Motorola
.
Android was far behind iOS when it was launched back in 2008, but two and a half years later, it's set for OS dominance in the mobile world. The NVIDIA dual-core Tegra chipset looks good enough to deliver and when you put these two facts together, it's getting seriously interesting. And when you take into account that
RIM's PlayBook
, which is based on the company's new QNX OS, is coming soon as well, the tablet market is sure to offer a lot of high quality and diverse tabs in the very near future.
source:
Electronista
Recommended Stories