Top RIM official apologizes for outage, promises all email will be delivered
7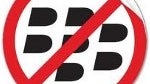 Robin Bienfait,
RIM's Chief Information Officer
, addressed the world on Wednesday evening. The topic, of course, was the recent outages in service suffered by BlackBerry users throughout the world, and
which spread to the U.S. and the rest of North America
on Wednesday. "
You've depended on us for reliable, real-time communications, and right now we're letting you down
," the RIM executive said, "
We are doing everything in our power to restore regular service everywhere and to restore your trust in us
."
According to Bienfait,
the outage started from the failure of a core switch
and back-up systems failed to kick in. The timing of the outage is not good for the company, coming a little more than a week before the
annual DevCon conference
held by RIM for developers. At the same time, BlackBerry is in a battle with iOS and Android
for smartphone marketshare in the States.
Currently,
all service in North America has been restored
although BlackBerry devices in Europe, India, Africa, Latin America and the Middle East cannot surf the web. Those who sent out email during the outage shouldn't worry according to RIM's Chief Technical Officer for Software David Yach. The executive says that all emails sent during the time period when service was out, will still get delivered. As for restitution for those who were affected by the outage, the company has yet to make a statement about how it will compensate BlackBerry user who were unable to use their phone.
source:
AllThingsDigital