BlackBerry outages expanding to North America
11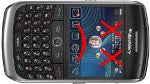 As we reported earlier, BlackBerries around the world have been suffering from
service outages
. As of the time RIM made a statement on the issue, the problems had been occurring in Europe, the Middle East, Africa, India, Brazil, Chile, and Argentina, but now it seems like the problems are spreading.
Reports have been coming in that BlackBerry users in Canada and the United States have been experiencing the same service outages. RIM said it is working to fix the issue, which it blamed on a "core switch failure". Whatever the reasoning, this problem has become a PR nightmare for the company, which has been watching its market share and stock fall recently.
Rumors have also been circulating that many businesses have been working to incorporate employees' personal smartphones (aka iPhones and Androids) into enterprise networks, which would completely remove the need for BlackBerries at all. During this, "Dear BlackBerry" has become a trending topic on Twitter, and there is some real anger out there. It's not all comments like: "Dear BlackBerry, thanks for honoring Steve Jobs with 3 days of silence."