Top 7 wireless carriers lose 52,000 contract customers in Q1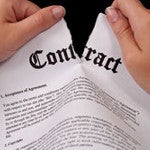 This might be foreshadowing bad times ahead for an industry that has grown through the worse economic conditions in eons. Or it could simply signify a change in consumers' habits due to the lousy economy. According to the AP,
the top 7 wireless carriers in the U.S. lost 52,000 contract customers in the first quarter
. That may not sound like a lot, but consider that when the top carriers add up their gains and losses, the figures usually show cumulative growth in the number of customers on a 2-year contract. Brokerage firm Jefferies noted in a report that the industry tends to see a slow down following the pop that occurs after the introduction of the latest Apple iPhone (see chart below)
which made a big bet on the Apple iPhone 4S
, and also
offered its version of the Samsung Galaxy S II
. The carrier's variant of the Galaxy S II could be considered
the best among the three versions offered in the States
as it has a larger display than the AT&T version, and features a dual-core exynos processor compared to the dual-core Qualcomm Snapdragon processor inside the T-Mobile model. In addition,
Sprint continues to promote its unlimited data plans
.
While the contract side of the wireless business declined,
pre-paid business was booming
. The top 7 carriers on that side of the industry (which includes the big four plus MetroPCS, Cricket and Tracfone) saw gains of 2 million customers in the quarter. No wonder
T-Mobile's former CMO called for an end to carrier subsidies on new phone purchases
.
source:
AllThingsD