Too much Mario: Kill the Plumber parody game rejected by Apple, coming to Android
15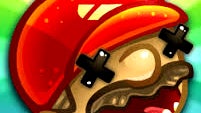 If you are outing a reverse platformer game called Kill The Plumber, you can reasonably expect some folks making a parallel with one ultrapopular Italian blue collar worker, and that's exactly what Apple did.
The crew behind Kill The Plumber was shot down by the App Store curators with the explanation that their game "
includes content or features that resemble a well-known third-party material, Super Mario Bros
".
The developers shot back, asking that Apple reconsider its decision, since the game has been authored exclusively by them, and is clearly meant to be a parody, with various obstacles competing against your level completion.
Apple, however, didn't budge, and responded that it could only let it be if there was a thorough change of concept, "
from the appearance to the functionality
," which is a shame, as the game seems a worthwhile prank, judging from the video below. It is still coming for Android, though, on July 23rd, so not everything is lost for all eventual Mario parody fans.