Time running out for Apple to embed Touch ID on iPhone 8; premium model could cost $1,200 or more
47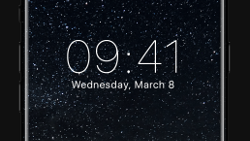 According to a trio of analysts from KeyBanc Capital Markets named Andy Hargreaves, John Vinh and Josh Beck, time is running out on Apple if the company plans on embedding Touch ID under the screen of the
Apple iPhone 8
. A note issued by the three to KeyBanc clients indicates that Apple has until next month to get Touch ID to work under the screen with the same speed and accuracy that iPhone users expect from the feature.
The note was acquired by financial publication
Barron's
and says that Apple continues to struggle producing a fingerprint sensor that works under the display. The company has a 12-week window to order the proper integrated circuits for an embedded Touch ID, and start producing the phone. That means that Apple would have to solve any problems with this feature by August in order to launch the 10th anniversary model by November.
While a delay in launching the phone is not the number one choice, it beats other solutions
such as placing a Touch ID button on the back of the handset
. Recent rumors suggest that Apple could eliminate Touch ID altogether and rely on a face recognition system to unlock the phone and verify identification. The analysts say in their note that face recognition probably wouldn't work well with Apple Pay at this time.
While a delay seems likely, the analysts say that Apple could push back the launch of the iPhone 8 to mid-November without harming the entire cycle. A delay past mid-November is likely to negatively affect the expected results for fiscal year 2018, which starts this coming October. Speaking of the launch of the Apple iPhone 8, tech follower John Gruber said today that he expects the entry level version of the iPhone 8 to start at in a price range of $1,199 to $1,249 for a base model with 64GB of storage. A version with 256GB of storage could be available for $1,299 to $1,399.
"We believe it would typically take 12 weeks from placement of fingerprint IC orders to full volume production of iPhones. Consequently, if Apple is able to solve its fingerprint problems and place orders for fingerprint ICs before August, it would likely be able to reach volume production in late October or early November. We believe this remains Apple's preferred path, and expect it would be acceptable to both consumers and investors. It is entirely unclear if Apple will be able to fix the problem in this time frame.

Abandon the fingerprint sensor entirely and rely solely on facial recognition for login and authentication. This option appears increasingly likely as time passes, but is far from ideal. We believe Apple's facial recognition solution should work from many angles and in low-light environments. However, it would not work without clear line of sight to the user's face. Even if this encompassed just 5% of login scenarios, it would mean that several times a day the new iPhone would perform worse at an elemental feature than older iPhones, which would risk pushback from consumers. Further, we do not believe facial recognition would be initially qualified as an acceptable verification method for Apple Pay. While Apple could achieve this over time, the likelihood for an initial lack of Apple Pay could adversely affect demand.

We believe this is very unlikely, but possible if Apple thinks facial recognition is not sufficient by itself for login and authentication. A delay up until mid-November would not likely have a meaningful impact on our expectations for the cycle. Beyond this, we would expect mix and total unit volume for F2018 to be meaningfully affected."-"-Note from KeyBanc Capital Markets analysts Andy Hargreaves, John Vinh and Josh Beck
You hear the sound of a clock ticking? That is the time counting down before Apple must make a decision about what to do with the iPhone 8 and Touch ID. It might be the most important decision Apple will make this year.
source:
Barron's
,
CNBC
via
BGR
Recommended Stories