Three new videos focus on the Samsung Galaxy S7 and Samsung Galaxy S7 edge; check them out now!
34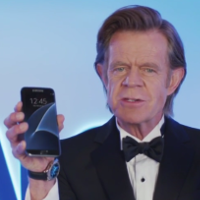 Samsung released three new videos today to promote the
Samsung Galaxy S7
and
Samsung Galaxy S7 edge
. The first video, called "Why," has smartphone owners asking why they can't get certain features on their handset. "Why can't I buy this weird shaped meat sandwich with my phone?," asks a woman. A guy tries to squeeze his handset into his pants pocket. "Why can't my phone have a big screen but be small enough to fit in these fashionably tight pants?," he wonders.
Another man wants to know why the battery on his phone can't last long enough to navigate him out of the scary woods. As the video gets longer, the questions become sillier. A wealthy rapper (fictitious, but still a amalgamation of a few artists) wants to know how can he show everyone how rich and carefree he is if pouring champagne on his phone makes it break.
By now, you should know that the way to resolve all of these "Why?" questions is to buy the Samsung Galaxy S7 or Samsung Galaxy S7 edge. And we won't even bother to give away the surprise ending with William Macy, who wants to know why he can't be the official spokesman for the Galaxy S7 edge. After all, the phone is "the only water resistant, best wireless charging, best camera having memory expandable pay almost anywhere" phone," Macy says.
The second video focuses on water. As the ad points out, we can't live without it inside of us. And without it on the outside of us, we become dirty and disgusting and our skin falls off. As the clip points out, there are only two things we can't live without: water, and our phone. "So why in the world would you get a phone that can't get wet?," asks the voice over announcer. Both the Samsung Galaxy S7 and Galaxy S7 edge have an IP68 certification. This means that the phone can be submerged in water as deep as 3.2 feet for as long as 30-minutes, and emerge unscathed.
The third ad is called "Dark." Many great things happen in the dark, says the video, which is why you need a smartphone with a camera that takes photos in low-light conditions. The 12MP rear camera on the Galaxy S7 and Galaxy S7 edge both have an aperture of f/1.7, which means that pictures can be snapped in low-light conditions and still come out looking great.
You can check out the new ads for the Samsung Galaxy S7 and Samsung Galaxy S7 edge by clicking on each video, below.
source: Samsung (
1
), (
2
), (
3