This wearable is a smartwatch and a handset, meet .klatz
8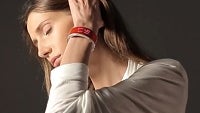 Android Wear smartwatches, the
Pebble
, and
Apple Watch
are pretty snazzy wearable devices, but they need to be tethered to a smartphone to be fully functional. The newly released
Samsung Gear S
is a smartwatch with cellular connectivity, as is the
Goophone Smartwatch
, released last year.
To make or receive calls on any of those devices though, you are relegated to a Dick Tracy mode, talking to your wrist and having a spoken conversation in the open for all to hear. It amounts to convenience at the expense of privacy.
That is where .klatz comes in, this device is not a standalone phone, but rather than having to talk into your wrist, you can unclasp this device and use it as a Bluetooth connected handset. Think of it as an evolution of the
mini handset HTC
made available in some markets for the
Butterfly
.
Unlike other tethered smartwatches however, .klatz adds some focus to basic functionality, like telling the time, offering caller ID, and allowing you to use it as a device to talk on. That does not mean .klatz will not be able to convey fitness or SMS content though. Like other smart wearables, that functionality is part of the package as well. iOS and Android devices will be able to make use of a dedicated app, while other Bluetooth connected devices will be able to manage calls, access contacts, and control the media player. If a call comes in, you will be able to view the caller ID on the .klatz, and to answer the call, simply uncuff yourself and place the device to your ear.
What makes .klatz different from other smart wrist-worn devices is that it is a stiff cuff. That will put some people off right away, but the advantage of such a form factor is that you have room for a bigger battery. Coupled with a basic, energy efficient 384 LED display (12x32), and you have a wearable with roughly 10 days of battery life in normal usage mode, and could provide up to one month in energy saving mode.
This idea might strike the perfect chord for people that want a smart wearable, but also like to be able to just hold a phone to their head when talking. Like so many crowdfunding projects, .klatz is not a sure bet, but the introductory prices for the first 500 backers is only $100. After that, prices go to what strikes us as a reasonable $140 and expand up to $950 for a 10 watch distributor pack. Shipping is free in the United States.
Deliveries of .klatz are anticipated for March and April of 2015, and will be available in your choice of two colors and four sizes to fit your wrist and fashion sense. The campaign is just underway, with 30 days left to raise $140,000. Check out the source link if .klatz is the wearable you have been waiting for.
sources:
.klatz
(Indiegogo) via
CNET