Samsung Gear S U.S. bound, coming to all four major carriers this fall
17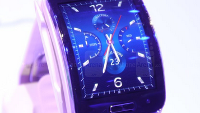 In a terse statement, Samsung announced on Tuesday that its independent smartwatch, the Samsung Gear S, will be available from all four major U.S. carriers this fall. Unlike other timepieces that rely on a nearby smartphone to connect with, the Gear S has its own 3G connectivity, and users can make/take calls directly from their wrist. That means that owners of the device will need to have the watch hooked up to a voice and data plan. Pricing and availability remain unknown at this point.
The Samsung Gear S offers a 2 inch curved screen with resolution of 360 x 480. A dual-core 1GHZ processor powers the watch which has 512MB of RAM and 4GB of native storage inside. A 300mAh battery keeps the second hand moving. Sammy's home grown Tizen OS is pre-installed.
"The Gear S will come to the U.S. this fall and will be available through AT&T, Sprint, T-Mobile and Verizon Wireless. More information to come soon!"-Samsung
The Samsung Gear S also offers Wi-Fi connectivity, and there are some apps available including a news reader and one for weather.
source: Samsung